Mar. 30th 2019 - Jan. 5th 2020

Persona grata ?

Through hospitality, the impossible happens.
Jacques Derrida

"Persona grata? " is the legacy of the initial exhibition presented from October 2018 to January 2019 in the two museums, the MAC VAL and the National Museum of Immigration History. This hanging, partially renewed in September 2019, presents more than one hundred works that resonate with historical pieces from the collection with very recent acquisitions, exhibited here for the first time.

"Persona grata? "invites us to ask ourselves...

Hospitality is today in question, even in danger. If the city of tomorrow is taking shape on the coasts, borders and jungles of today's Europe, gratitude and hospitality are not its founding pillars.
If welcoming too often rhymes with punishment, then extending a hand becomes an act of vandalism. Just as welcoming the other can only be considered because it is prevented, hospitality today is thwarted, even illegal.


Invitation has been the keyword of the MAC VAL since its inception. The invitation to artists, to the public, to currents of thought, to social movements, to what creates the world of the moment. And if hospitality is at the heart of its philosophy, it so happens that hostility is often expressed through the works in its collection.

Initially, with "Persona grata" at the MAC VAL and the National Museum of the History of Immigration, we defended this universal and humanist notion. Today, we pose it in the light of reality, as a contemporary subject to be questioned.

Indeed, the works in the MAC VAL collection and their placement in space, the relationships and meanings that weave together embody the ambivalence of the notion of hospitality, which today can only be glimpsed in the light of its opposite, inhospitality. Like genealogists of the interiority of the collection, we can thus be caught up in a jerky and rapid rhythm of works that respond to each other, agree with each other, follow the same thought or clash with each other. And contradict each other. Such is the world. Dual, contradictory, thwarted and terribly constrained, hospitality is today being fought in our society, just as it is also a fight. If it implies peace at last regained, it is because beforehand there is conflict, there is a war to flee (economic, ecological, climatic...).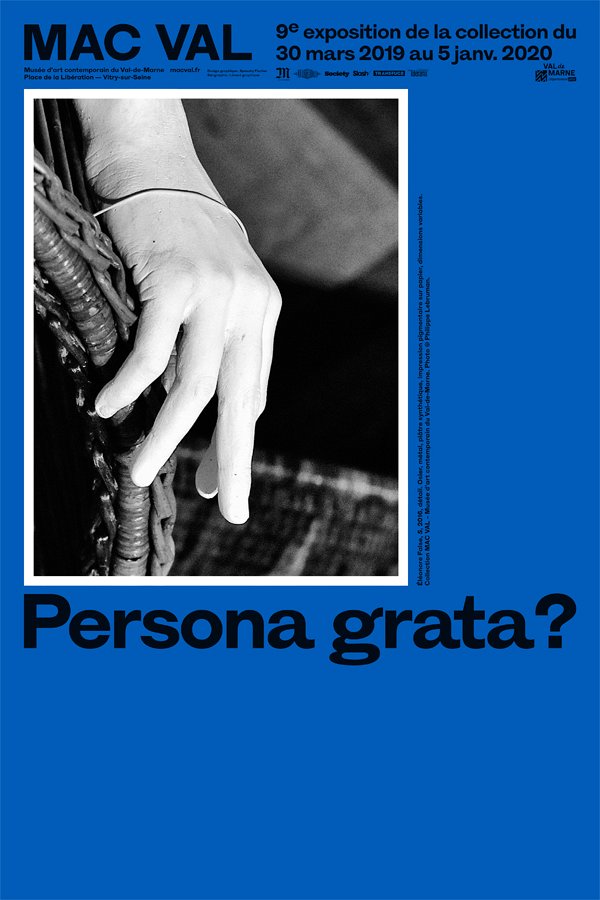 @
MAC VAL
Place de la Libération
94400 Vitry-sur-Seine
With Pierre Ardouvin, Renaud Auguste-Dormeuil, Laëtitia Badaut Haussmann, Richard Baquié, Dominique Blais, Alina et Jeff Bliumis, David Brognon & Stéphanie Rollin, Ismaïl Bahri, Pierre Buraglio, Mircea Cantor, Kyungwoo Chun,CLAIRE FONTAINE, Claude Closky, Philippe Cognée, Delphine Coindet, Pascale Consigny, Bady Dalloul, Éléonore False, Thierry Fontaine, Grout/Mazéas, Ara Güler, Mona Hatoum, Laura Henno, Pierre Huyghe, Emily Jacir, Yeondoo Jung, Thierry Kuntzel, Léa Le Bricomte, M/M, Lahouari Mohammed Bakir, Eva Nielsen, Nøne Futbol Club, Jean-Christophe Norman, François Paire, Philippe Parreno, Bruno Perramant, Laure Prouvost, Judit Reigl, Anri Sala, Sarkis, Bruno Serralongue, Esther Shalev-Gerz, Société Réaliste, Djamel Tatah, Barthélémy Toguo, Patrick Tosani, James Webb, Sabine Weiss, Xie Lei...